Healthy Habits, Nutrition tips, and Exercise to help with Weight-Loss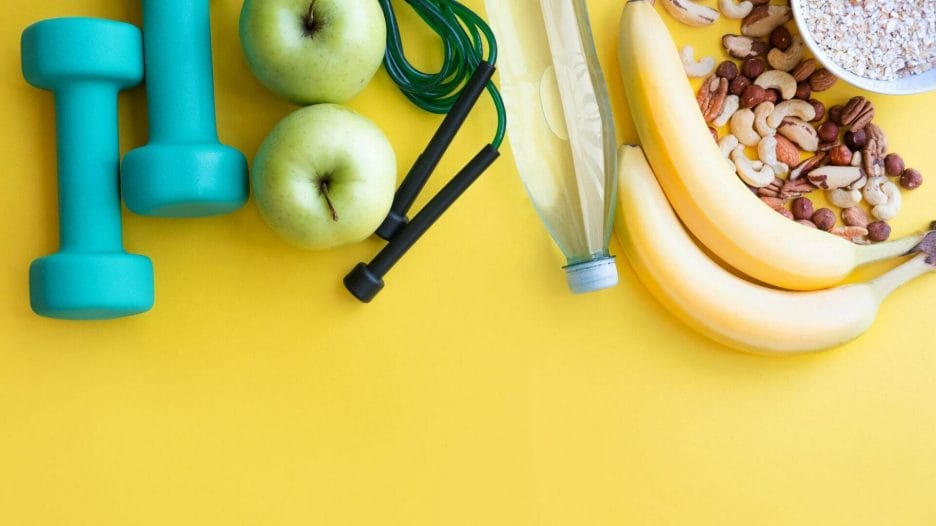 Table of Contents
Meal plans, supplements, fat-burning workout programs, cleanses, macro tracking, the keto diet and other nutrition regimes—where do you start if you want weight-loss?!
Here's the truth: The world of nutrition is confusing, even if you have a Masters degree in it! There are lots of too-good-to-be-true promises and outright lies. The reality is that the same things don't work for everyone. YOU ARE UNIQUE! That's why you can do the same diet or fitness plan as your best friend and she gets amazing results while you get nothing.
But I have great news for you: There are some simple healthy habits that can help you move toward your goals if you're just starting out.
In fact, you can take some simple steps today and you'll be on the right track. I'll provide a few things you can do right now if you want to lose weight. If it all seems "too easy," remember, simple habits are sustainable habits and sustainable habits produce long-term progress.
Weight-Loss Habit 1: Get Moving 🚶🏽‍♂️
You don't need to complicate things if you're just starting out. Just get moving. Think about constant, consistent improvement. If you're not doing any exercise, even daily 20 min walks can make a massive difference. If you're already moving every day, increase the amount a little bit and adjust your mode (ie – Resistance training, running, hiking, biking, sport, etc.). Movement will help you burn calories and get your metabolism going.
This movement could involve working out and I'd advise you to do workouts specifically designed to help you reach your exact goals. But in the beginning, just adding general movement to your day will produce results.
Here are a few ideas to increase your daily activity:
Go for a short walk twice a day. Outdoors after lunch is great for circadian rhythm and energy if you work in an office. 🌴
Play a sport with a child or grandchild. ⚽️
Add in simple squats while brushing your teeth. 🪥
Do a plank or bridge whenever there's a commercial on tv. 📺
Park far away from the entrance when going shopping. Every step counts. 🛒
Use the stairs at work any time you have to go to another floor or walk the stairs on a break.
Try to do something every day and give yourself a checkmark on a whiteboard, calendar, or sticky note every time you do an activity.
Once you get a string of days with activity, you'll have confidence and momentum.
Not sure what to do next? 🤔
At PHP, we go through a detailed process of intake and assessment to assure that every part of your exercise routine is optimized for results while being efficient with your time. This is essential for those with complex or difficult goals or those with limited time to exercise.
Interested in seeing what our program can do for you? Schedule a discovery session with one of our coaches by clicking here
Weight-Loss Habit 2: Focus on Vegetables and Lean Protein 🥗
Improving your diet can be simple. Perfecting it can be complex. Make an honest evaluation on whether you are doing the simple things that you need to do currently. Some questions you can wrestle with are:
Am I consuming a lot of added sugar through drinks or sugary/sweet snacks?
Am I drinking ½ my body weight in water?
Am I eating mostly home-cooked meals instead of fast food?
To accomplish weight-loss goals, try these simple but very effective strategies.
First, fill half your plate with veggies at every meal. Vegetables are packed with vitamins, nutrients, and fiber and they don't provide huge amounts of calories. They're nutritious and filling and they can be delicious too!
The other part of the plan: focus on lean protein. Country-fried steaks and deep-fried chicken wings won't fit well with this plan. But things such as chicken breasts, grass-fed beef, and fish are great and there are other options if you'd prefer not to eat meat.
Protein will help you fuel your body and build muscle and lean choices will ensure you don't take in a lot of calories from bad fats.
Again, you can track your "win streaks" by giving yourself a checkmark every time a meal has veggies and lean protein. Your body will love what you're putting into it and you'll feel great.
One problem we see come up with many people is that they often know what to but they struggle with 1 of 2 things:
They know what to do but their not sure how to practically implement good nutrition habits with all the craziness of work, family, and other life obligations.
They struggle with how to stay consistent and need help with accountability.
We've built our On Track Nutrition Program specifically to solve these problems through expert guidance and community reinforcement.
On Track Nutrition 🥦
Interested in seeing if our On Track Program is right for you? Schedule a discovery session with one of our coaches here: https://progressivehp.com/free-intro/
Simple and Effective
If you ever feel overwhelmed by all the noise around weight loss, remember that fitness and nutrition don't have to be complicated. At first, the key is to move a little more and eat a little better every day and then an expert can help you tailor your plan so you get the best results. If you're completely overwhelmed meet with a professional early on to guide you past the common pitfalls of injury and wasted time/energy.If you have any questions or want to talk more about weight loss, book a consultation here: https://progressivehp.com/free-intro/ today.
Then go for a walk and refuel with some delicious veggies and chicken!