Introducing the Progressive Health & Performance team
Meet the fitness experts that are here to help you achieve your goals
Fill out the form below to get started
Take the first step towards getting the results that you want
START NOW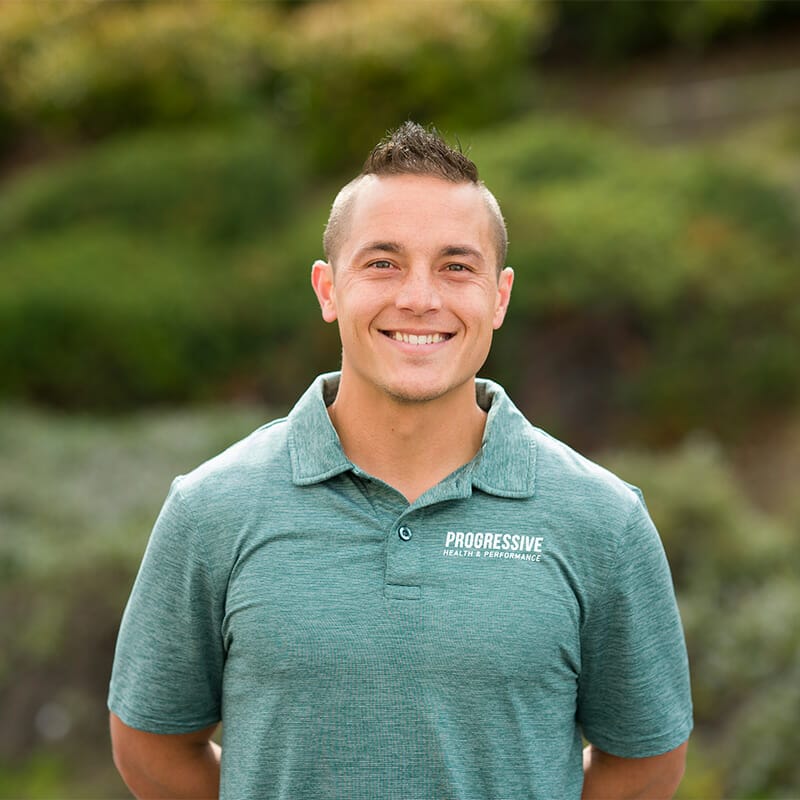 I started my journey in health and fitness at the age of 13. After growing up as an overweight youth, I found exercise and nutrition as an empowering path for changing my life. Through reading and watching anything I could get my hands on related to health, I became my own experiment and first client. As I started to see results, I found that this lifestyle not only made me better physically, but mentally as well. I gained self-confidence and a stronger drive for achievement and knew this was what I would spend the rest of his life practicing. Eager to get out into the field, I completed a Bachelor's degree in Kinesiology from Missouri State University and later moved to California. There, I attended California State University at Long Beach and received a Master's degree in Nutrition and Exercise Physiology. While my conventional education is foundational, I believe that continuing education is where health professionals really evolve and make a difference. To solidify my knowledge and expertise as a fitness professional I received credentials such as: Certified Exercise Physiologist (EP-C) Level II Exercise is Medicine Practitioner (EIM2) through the American College of Sports Medicine Multiple Sclerosis Fitness and Wellness Specialist (MSFW) through American Fitness Professionals and Associates Performance Enhancement Specialist (PES) through the National Academy of Sports Medicine Functional Movement Techniques (FMT). With a strong foundation in the science of movement I then took my nutrition education and practice to the next level by becoming a Functional Diagnostic Nutrition Practitioner (FDN-P). It is this area that really sets my practice apart as a health and wellness professional as I enjoy incorporating the full picture of fitness, nutrition, and lifestyle together. Certifications : FMT ACSM FDN Exercise is Medicine "While exercise or nutrition can be beneficial in different aspects, it is the two combined that truly allows the client to obtain optimal results. Every individual is unique in genetic build and current lifestyle. Therefore, each individual responds differently and may require different changes in behavior to reach their respective goals. No mode of exercise is perfect for everyone just as no single diet is perfect for everyone. The time of one size fits all in nutrition and fitness is gone. We must analyze people inside and out to provide truly optimal recommendations and results." MY MISSION AND PRACTICE NUTRITION At progressive Health & Performance we offer a variation of nutrition and health and wellness services. When I apply my passions in nutrition with the people I work with I like to incorporate a holistic and functional nutrition approach. I run functional lab work to obtain a clear picture as to what the client is dealing with on the inside, not just symptoms on the outside. By identifying healing opportunities in various areas in the body, I get to the root cause of many health complaints such as weight regulation, hormone imbalances, lack of energy, digestive complaints, autoimmune conditions, and sleep problems. My target populations are digestive disorders, degenerative diseases (MS, RA, Fibromyalgia), and weight loss. FITNESS When working with clients on their fitness goals, I enjoy working with a wide variety of populations ranging from 8-year-old kids to seniors. I focus on empowering others and helping them achieve results with functional movement at the center. By identifying movement dysfunction, lifestyle demands and goals of the client, I help them reach their goals safely and efficiently through exercise physiology, corrective and functional exercise, and coaching. Because of this approach and my broad expertise, I tend to work with many disabled populations. My current list of clients include those with: Multiple Sclerosis, Cerebral Palsy, Lupus, Rheumatoid Arthritis, Amputees Lyme Disease, Cancer, Brain/Spinal Cord Injury, and Stroke. My target populations are special populations (such as those above), pain relief, and chronic illness.
MY JOURNEY I earned a Bachelor of Science degree in Exercise Science and commissioned through the United States Army from Missouri State University. Then, I completed graduate school earning a Master's degree in Exercise Science and Human Performance. I completed serving on Active Duty as an Officer in Charge (OIC) of the Army's Master Fitness Trainer Course. There, I supervised a team certifying the Army's top Soldiers as Master Fitness Trainers. I now serve as a Captain in the Army Reserves where I serve as Medical Operations and Intelligence Officer. Throughout the years I have acquired a diverse background. I have enjoyed working in various industries, such as orthopedic sports medicine, strength and conditioning, and a tactical strength and conditioning. As of today, I am a Certified Strength and Conditioning Specialist (CSCS) and Tactical Strength and Conditioning Facilitator (TSAC-F) through the National Strength and Conditioning Association (NSCA). A Certified Sports Performance Coach through USA Weightlifting (USAW) and a Corrective Exercise Specialist (CES) through the National Academy of Sports Medicine (NASM). "Many veterans and people still serving, whether military, fire, or police, believe pain is a way of life. I am telling you that is not the case at all. Take ownership of your health on a daily basis and I can guarantee you will see improvements. You just have to want it and be willing to put in the effort consistently. Hydration, nutrition, stretching, PROPER resistance training…all of the things you are not doing enough are part of the equation. The question is not if you will ever feel and move better. The question is when are you willing to take control of your health to feel and move better." MY MISSION AND PRACTICE My mission is to improve health, performance, and ultimately safety to all military, fire, and police in the Inland Valley. I currently work with over dozens of veterans, first responders, and active duty military at our Murrieta facility. I also work with these populations online all across the country to get them and keep them performing their best in their respective service fields.
A vast majority of people who enjoy staying active or anyone who regularly participates in a sport, from the weekend warrior to the elite athlete, understands that health and fitness is the foundation of their training. However, training is not one-size-fits-all when it comes to improving athletic performance. This is where sports performance training comes in. As a sports performance specialist, I incorporate strength training and functional movement into every athlete's program. It is a key component that can boost your athleticism and make you a well-rounded elite player. Training is extremely important and should form an integral part of all elite athlete's daily routines. Training to develop strength is important for maximizing performance in most sports, especially for contact sports. It allows the body to gradually build up strength and endurance, improve skill levels and build motivation, ambition and confidence. Training at Progressive Health & Performance is varied and tailored to the specific individual or team needs. Start NOW to give your athletic performance an edge! 6 BENEFITS OF TRAINING WITH ME: You will Increase athletic performance You will maintain muscle tissue You will increase strength You will improve speed, agility, and quickness You will motor learning and skill acquisition You will prevent/reduce risk of injury MY TRAINING PHILOSOPHY: My coaching philosophy to sports performance and wellness is that everyone can reach their peak potential through hard work and dedication. I train my clients through progressive training strategies to enhance their athletic capabilities. My primary focus is to improve mobility and functional strength to transfer over to sport. I combine traditional and non-traditional methods of training to improve mobility, strength and movement efficiency through tailored programming. MY JOURNEY My journey in health and fitness began in high school through competitive sports – primarily soccer and basketball – which allowed me to see the benefits of utilizing training methods to get stronger and see what my body is capable of doing. I had to overcome many obstacles to get to where I am today. My college experience consisted of 5 colleges, in two states over 9 years. But I wouldn't change a thing. In that time, the mentors and experiences I had, helped me grow my expertise in health and fitness. Which made me realize this was the career path that I was most passion about. I was able to settle in at Cal State San Marcos, where I started to gain more knowledge about nutrition, physiology and human body movement. As I immersed myself deeper into these topics I began to recognize that each component plays a vital role in improving a person's overall health and performance. My goal is to be knowledgeable in all aspects of athletic performance. To improve any athletes potential to elite performance for their specific sport. With my background in kinesiology and a determined mindset, I will always push myself to strengthen my skills as a trainer to better serve YOU.
I am a Kinesiologist, SGX Coach, & Obstacle Course Specialist. I enjoy running Spartan Races and any obstacle course race. Exercise and fitness has been a great journey and I continue to learn new things every time. I enjoy teaching new and experienced clients in fitness and then applying them to bigger goals or goals they would have never dreamed of doing. MY JOURNEY I've received my Bachelors Degree from California State San Marcos in Kinesiology – Applied Exercise Science. I continued to earn my certification of personal training through the American Council of Exercise. With six years of personal training experience I continue to expand my knowledge of different types of training. I created a team to experience our first Spartan Race. Since then, I continued to certify myself as an Spartan SGX coach & Obstacle Course Specialist. MY MISSION AND PRACTICE My mission is to help you get off the couch, out of your routine, and improve your life & wellness. I continue to practice and teach self-body awareness so that you (as a client) can understand what your body is doing. I help develop new routines and way to improve your quality of life and show you new ways to enjoy it. So what's stopping you from pushing yourself? What is holding you back from improving in areas you need? Let's talk!
I have always had an athlete's mentality and competitive edge. After having two children, I became more aware of the difficulties and challenges that pregnant and post-partum women face. I absolutely love to not only push myself but to help clients understand that more is not always better, along with the importance of "active recovery." Balance is key! I have been an athlete my whole life, a mother over 13 years, and a certified personal trainer over 15 years. If you are struggling with your health and fitness goals, allow my passion for a healthy lifestyle to infect you and yours. DEMOGRAPHICS: General Health, Women's Health, Athletes, injury prevention/rehabilitation MY STORY I grew up playing a variety of sports, from softball, volleyball, and basketball. Growing up in Southern California, I have always loved water sports. I learned to surf at just 8 years old, to keep up with my older brothers, and continue to surf whenever possible. This passion for water carried over into my sports career. I started playing water polo and swimming competitively in high school and continued through Junior college. This athletic career sparked my interest in health and wellness. After earning an associate's degree in physical education at Riverside City College, I continued learning by working in a physical therapy office under a therapist for 3 years, which provided me with a grasp on rehabilitation and injury prevention. I earned my personal trainer certification (American Council on Exercise) and enjoyed the variety of people I encountered along the way, with the unique challenges and goals that they each brought. While working as a personal trainer, I also realized the shortcomings of traditional training, finding that no two people were the same and every person has different limitations and goals. Those limitations and goals needed a more personalized approach than mass produced big box training could offer. I went back to school in order to gain the knowledge and experience to properly help the people that came looking for a healthier change in their lives. EDUCATION Associates of Science – Physical Education (2006) Bachelors of Science – Kinesiology (2018) ACE – CPT (2007) NASM – CPT (2018) FMT (2020) BFR (2020) NASM – CNC (2021)
I have been in the fitness industry since 2018 as a kinesiologist and earned a Doctorate of Physical Therapy in 2021. My goal is to help alleviate your pain, restore optimal function, and rise to confidence in one's self that ensures my patients are able to maintain lifelong health and wellness.
My mission is to influence people to continue their journey in holistic health and continued fitness, rising to performance and reframing movement.
MY STORY: Growing up I believed I was going to pursue a career as a pediatrician. Along the way, I found myself as a patient in physical therapy numerous times being a dancer from a young age. Along the way, I found myself in the gym environment leading me to work as a kinesiologist all throughout my educational years. My experiences led me to pursue my title as a Doctor of Physical Therapy so that I can provide a space where people can heal physically, emotionally, and mentally. I enjoy working with all people and strive to influence a lifestyle change allowing others to continue their journey in holistic health and continued fitness.
EDUCATION:
Bachelor of Science in exercise science with minors in psychology, health, and wellness coaching.
Doctorate of physical therapy
NASM-certified personal trainer, corrective exercise specialist, and functional nutritionist. BFR level one certification.
Certified FRC mobility specialist (FRCms)
I am a Kinesiologist passionate about helping others achieve their fitness and weight-loss goals. I've implemented safe and healthy fitness plans for hundreds of women pre and postnatal that can be adaptable to any fitness level. Alongside me, you will use the tools needed to adopt a better mindset and healthier habits of daily living. MY MISSION My mission is to help moms and women of all ages to discover their strength and emotional well-being by enhancing their self image and self confidence. There is so much pressure that is put on women by themselves, and the media to get their pre pregnancy shape back in no time at all. Women should be encouraged to take the time to heal and recover their post baby body. It's my responsibility as a personal trainer to guide and advise them how to exercise safely and sensibly. My goals are to work to improve lumbopelvic stability, strengthen the muscles that have been lengthened by labor, address muscular imbalance, and strengthen the muscles that aid in postural support while feeding, lifting and carrying their babies. Together we can work together to increase your strength and endurance for activities of daily living. MY STORY My interests in Exercise Science began when I was a young girl playing just about every sport, but mainly excelled in soccer. Soccer always played a huge role in my life up until my second year attending California State University San Bernardino. But, even after I finished playing soccer I always found exercise to be an essential part of my daily life. I truly believe that exercising teaches self-discipline, provides an outlet to release stress, and most importantly helps to gain self-confidence. Fast-forward to receiving a Bachelors and Masters degree in Kinesiology, I also earned the most important and rewarding job in my life, and that is being a mother to my daughter. Although she is my biggest motivator and greatest joy in my life, motherhood is not always easy. Day in and day out mothers put the focus on the needs of their family before themself. I understand first hand that if you do this enough, you start to lose focus on your own goals and wants for your life. I've made it my mission to help others realize the importance of making their health a priority. Which is how I have had the opportunity to work with many women, including those who have lost themselves in the hustle and bustle of everyday life, those who don't like what they see in the mirror and those who desperately crave a change. Through exercise they were able to gain the self -confidence they never knew they had. They had more energy to play with their kids and became a stronger, healthier version of themselves. Seeing the happiness exercise has been able to provide to my clients, has continuously fueled my passion for fitness and I've made it my commitment to help many more. EDUCATION Bachelors degree in Kinesiology Masters Degree in Kinesiology ACSM Certified personal trainer.
My name is Moises or Moy for short. I'm an extremely active and outgoing person, always have been from a young age. I believe that fitness and health is the key to longevity. The motto I live by is "Feel good, look good, live good." Fitness is a lifestyle and a long process to follow, I will be here to help guide you through the process. MY MISSION: My mission is to show the importance of technique and form to follow the process that is achieving goals. My specialty is using my loud voice and extroverted personality to motivate and inspire those around me to be their best self. MY STORY I've been an athlete my whole life. I played college soccer and currently compete as a semi-professional soccer player. I've always been passionate about the gift and the life lessons in athletics. I know how powerful it is to have a strong, positive role model for kids and I'm driven to be that for the youth that I work with. EDUCATION Bachelors of Science in Kinesiology.
Hello, my name is Amanda and I am a personal trainer certified through ACSM. I received my Bachelor's degree in Exercise & Sports Science from the University of Wisconsin – La Crosse. My passion for fitness and helping others lead me to get my kinesiology degree. I recently moved to California from Wisconsin in May 2022. I love seeing people reach their goals and sharing my knowledge for health and wellness. I have worked with many different populations and a variety of different types of gyms both in person and virtually. DEMOGRAPHICS General Health, Weight Loss, Special Needs, Muscle Building, Athletic Performance, Geriatric MY MISSION My mission is to help educate and encourage individuals in nutrition and fitness. Together we can celebrate every accomplishment, big or small. MY STORY Growing up I was always active in a variety of sports, such as: horseback riding, softball, tennis, cheerleading, etc. Before living in SoCal, I grew up in the waterpark capital of the world in Wisconsin where I spent most of my life. From living there, I worked with people from all over the world and experienced some fun, interesting job positions. I originally started college with the intent to become a physical therapist, but chose to start working training clients before graduating. I have experience with coaching cheerleading, personal training, leading group classes, corporate wellness, virtual training, seniors, special needs, athletes, post physical therapy patients, senior homes, hospital settings, weight loss, bulking, etc. I am always interested in working with any other types of populations and gaining more experience. In my free time, I enjoy taking hikes, trying new things, and spending time with my friends/family/cats. When a new opportunity comes to experience something different, I am always going to say yes and at least try it. EDUCATION BS Exercise & Sports Science ACSM CPT Yoga Basics TRX Strong Nation.
My name is Alexandria or Alex for short. I have my Bachelor's in Kinesiology with an emphasis in Exercise and Fitness from San Jose State and Masters in Kinesiology from Cal State San Marcos. I currently have certifications in Functional Range Conditioning (FRC) and NASM Women's Fitness Specialist.
My love for fitness/coaching came from my active life growing up. I've always loved exercise and training but when I started college I found my passion for helping others live a happier, healthier life. I love knowing I've left an impact on someone's life and helped them live a healthier life. I love working with weight loss, seniors, and menopausal women clients.
My mission is to help clients reach their goals and break boundaries they didn't know possible. Feeling confident and strong in their bodies is my goal. Some hobbies of mine are working out(obviously), going wine tasting, and trips to Disneyland.
Growing up, I played various sports, leading me to play soccer at the collegiate level, something I had always been very passionate about. However, as I advanced deeper into my studies, I sparked a fire for exercise physiology and research. This raised the question: Can I do something to raise the bar of capabilities on the field, court, or track? This is where the passion to work with athletes was solidified. Additionally, having played various sports helps me understand the variability of mechanics specific to each sport, all vital to improve.
MY EXPERIENCE I currently am an assistant coach of a club soccer team, where I am the fitness coordinator as well for the team. I was also an intern under a head ATC at a high school for 7 months, where sports medicine has held a place in my heart for a long time. The incorporation of modalities to promote recovery and performance is something I am very familiar with and look to practice my experience on others who can benefit. Before I was brought on as a trainer, I started as an intern at PHP in October, where I instantly fell in love with the art of coaching athletes and those who look to live a more healthy lifestyle. I am also a lab research assistant to my professor at my current university, California Baptist University. This added reassurance to my interest in research and physiological findings.
MY MISSION is to provide clients with information and knowledge to live better lives, physically and mentally, until they do not need my assistance anymore. Together, we can set a firm foundation to live a better lifestyle while fully understanding the importance of the process.
Start here
Book a free intro today so we can learn all about you, your goals and how we can help you reach them
Fill out the form below to get started
Take the first step towards getting the results that you want
Free Intro